Shaun Brown on 9th May 2021
Vintage Tweed Jacket Buyers Guide - Live for Tweed
If you're a regular visitor to Live for Tweed or even have a general interest in dressing well you will, know about tweed. Its longevity, its versatility, its warmth, its ability to transcend the fickleness of fashion. No other material has a foot, or sleeve, in traditional clothing and style.
You will probably understand the need to have some in your wardrobe.
I am not going to go over its History and the Makers process here, it's been done many times before by those that can explain it all better than me, but it's a story worth reading as it's a fascinating one.
The word Tweed itself isn't very specific, its used to sell polyester mix jackets, trousers, anything with a pattern I've seen described as tweed. But proper Tweed, and more specifically Harris Tweed ,is protected under The Harris Tweed Act 1993 that enshrines in law that every metre of it will conform to exacting standards and adhere to the legal definition of Harris Tweed. And to make life easier every item will have a label including the orb symbol, so you have the piece of mind that it's the real deal. Now a good thick wool jacket or coat doesn't necessarily need to be made of Harris Tweed. There are many brands that make excellent quality items made with their own fabrics.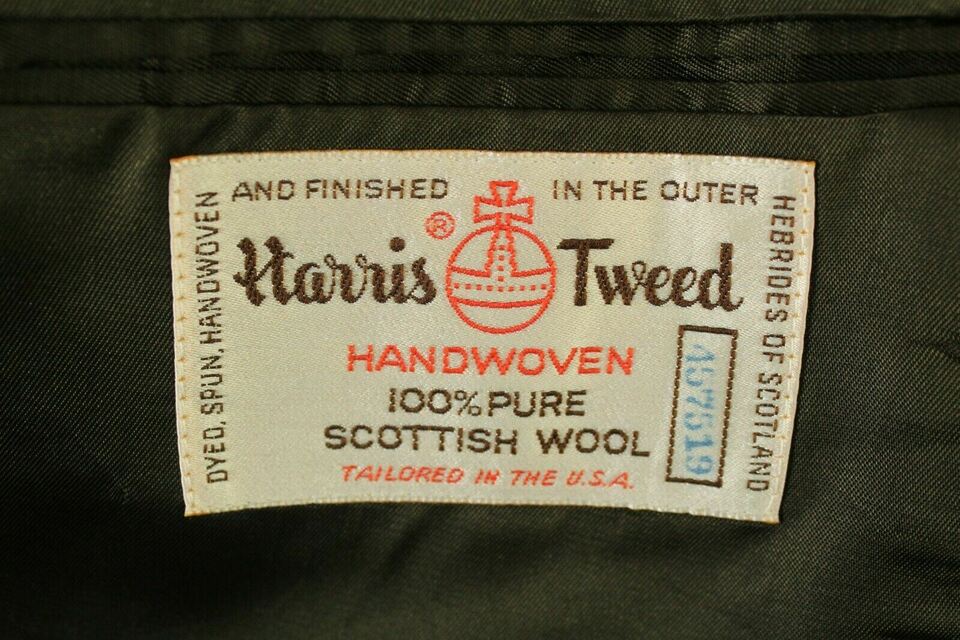 There are a number of traditional Outfitters and country Clothing stores that sell tweed clothing, every country town in the UK seems to have one of these lovely shops, surviving where many shops are closing down .But there's also many top designer brands that have Tweed and Wool clothing as part of their range ,Ralph Lauren has embraced this style for many years to great success ,and more recently brands like Margaret Howell and Beams Plus have kept the look in the minds of the style conscious shopper. Prices range from around £250 up to £1000 plus.
But there is another way, and that's second hand, the vintage way.
I understand its not for everyone. I understand that some people just don't feel comfortable wearing clothing that's been worn by someone else. But bear with us, because if you want to buy some Tweed, in my opinion, second hand is the best option .If you choose wisely ,and with care and follow some simple buying advice you can buy something that will last a lifetime, won't go out of style and you'll treasure ,without the cost.
Where?
Charity shops do throw up the odd bargain, depending on your luck ,and the location of the shop .Generally charity shops in more affluent rural areas will throw up an item or two. But the element of chance that can be fun when buying from a charity shop isn't really what we need here. And endless training through racks of clothing that you don't want means it can be like looking for a needle in a haystack. We really want to narrow that down a bit .And this is where you can see the benefit of online auction sites .A cursory glance at eBay shows about 20,000 items with Tweed included in their listing ,Etsy about half that. These vast numbers shouldn't intimidate. It can be narrowed down to size, new or vintage ,colour ( more about that later ) .Some sellers ,in fact most sellers, can be a bit vague about size , size labels can be torn off ,damaged, faded or just non-existent over the years .So its always best to ask if the information isn't forthcoming .You'll want the Pit to Pit width ,overall length and sleeve length at least.
Below are the typical measurements taken by Live for Tweed on all garments. We also recommend checking your measurements against a similar item you own and wear to be sure it will fit and to avoid disappointment.
Basic sizes like 38" 40" Long etc don't really give an accurate enough picture .Many of these items would have been expensive purchases that the original buyer would have expected to last ,therefore may will have had some adjustments made by tailors ,sleeves particularly if the item has been used for work ,many preferred a slightly shorter sleeve and had them adjusted accordingly.
The other option is shops both physical and online that are specialist in selling second-hand tweed. There aren't as many of them but thankfully most do have an online presence if there's nothing near you. What they do is take a lot of the hard work out of it for you. They'll handpick what they feel is the best ,in the best condition .They will generally give a more comprehensive guide to the size of the item ,and remember and ask if they don't ,and they're doing it because they love the product ,and that shows through with the selection they have.
Styles?
If you are buying a jacket ,what used to be called a sports jacket, they generally fall into three main categories .
Anything from the 1940s through to around the 1960s will tend to have a boxy shape ,squared off .By that I mean it'll tend to be a bit shorter ,it'll usually be three buttons ,with a narrower lapel and one vent in the back The material will tend to be heavier ,whether Harris Tweed or wool with a darker pattern ( again something we will discuss later ) .From the late sixties through to the early eighties two button jackets were far more prevalent ,the lapels are much wider ,they'll tend to be two vents on the back and the pockets are often the patch style ,so the whole pocket is visible .After many years of been unpopular this style is now becoming more fashionable with vintage Ralph Lauren herringbone pattern wool in this style becoming much sought after.
Lastly are the more modern style which tend to still have two buttons, but with a narrower lapel and a narrower fit overall ,a style that's been prevalent for the last twenty years .
Another thing is buttons. Many tweed jackets use what's called a football button ,traditionally made of leather but usually plastic ,resembling a half football ,they were useful as a regular flat button can struggle with heavier material to get through the hole and stay in place. They do tend to date the item a bit and by replacing the buttons with a decent horn button that's threaded to give a bit of play can update a jacket .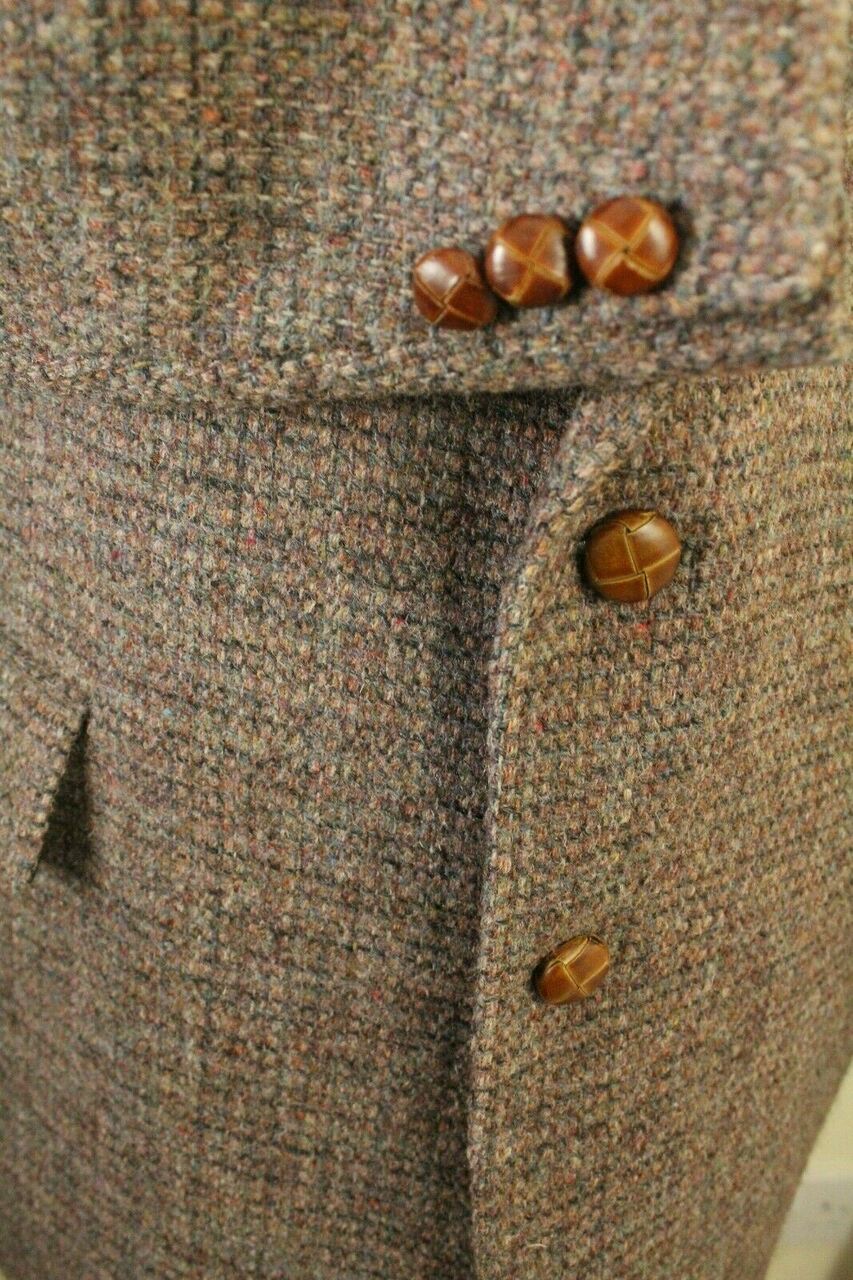 There are some jackets that will have come from traditional country clothing stores or tailors that have a style that's designed for horse riding more than casual wear. The body tends to be a bit longer ,it cuts away more below the buttons and the back vent will be a bit longer. As long as you're aware of this it shouldn't be an issue ,indeed these jackets can be amongst the best quality you can buy ,designed for comfort and to be hardwearing.
So what about the actual material , how does it look ?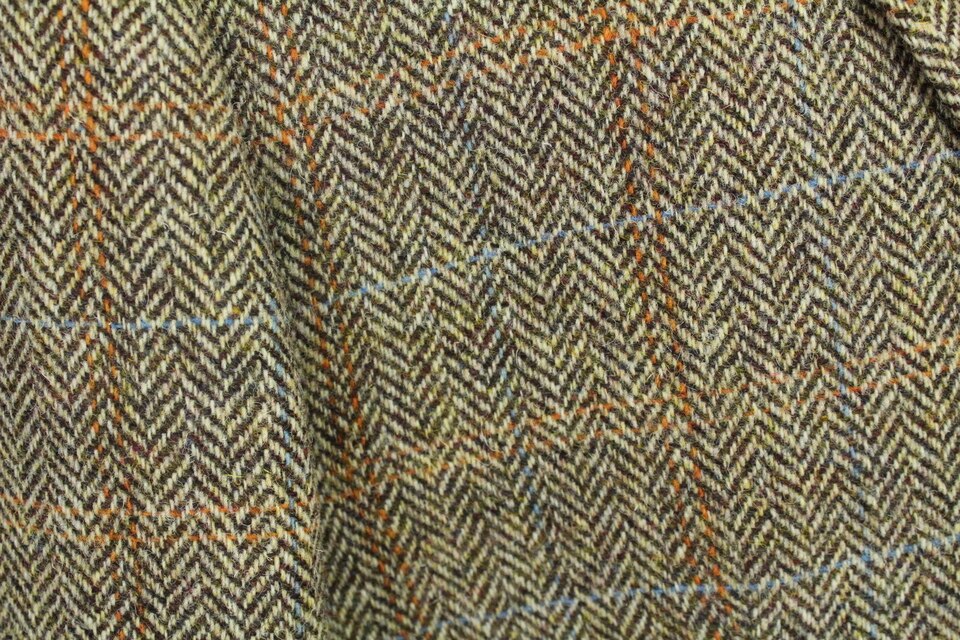 Harris Tweed Brown Herringbone with Brown and Blue Overcheck
Again id say there are three main types .Lets talk about Harris Tweed first .Its spun in the Outer Hebrides ,if you've ever been ,or at least seen photographs of it ,it's a big beautiful landscape .The colour of the sea ,the sky ,the heather and wildness of the landscape have a very strong colour palette of greens , blues ,purple and greys. Now before you leave thinking I've gone off on a tangent bear with me. Harris Tweed seems to capture these colours either singularly or as a combination of them .A tweed jacket evokes the colours and shades of the landscape like nothing else. Even using a single colour it has an almost three dimensional quality to it , it can look different depending on the lighting ,it has depth.
Secondly ,we have Wool or Tweed jackets that are more subtle in shade or pattern .They tend to be grey or brown and will have a small check or are a plain colour .Most modern Wool jackets will tend to be smaller checks ,modern Harris Tweed can often be a singular colour making them a little more subtle and versatile .Marks and Spencer and Next have produced reasonably priced jackets that often come up second hand .Many will use cloth that has been woven in the UK but put together elsewhere, so sometimes the quality of the finished product isn't as good and some ,god forbid, are a skinny or slim fit that can look odd, again if in doubt ask for the specific sizing.
Lastly we have something for those a bit braver ,that like something a bit bolder . Many of the traditional country jackets have greens and browns as their predominant colour with are overlayed with larger checks and patterns in gold and blue and yellows that can really make the jacket stand out .These aren't for everyone , but are very popular and the variations are endless .sometimes you find one that's just perfect for you ,its quite an individual purchase ,compared with a plainer jacket .But paired with a plain jumper and jeans ,can look fantastic smart or casual wear for any occasion.
Condition?
There is a surprising amount of new or unused jackets out there. But most will be a good few years old, although its surprising how well they're looked after. If anything appears to have been kept in a barn or used as blanket then best avoid. Any tears to the actual fabric as opposed to the seams is probably best avoided too as it could be an expensive repair, and not every tailors or repair place have the knowledge to do it properly. The main damage points tend to be the lining ,with stains ,very often ink ,and tears around the pockets or pocket linings. Externally it could be buttons missing, seams split or the dreaded moth has had a little piece of it for lunch. Buying from eBay /Esty can be difficult as the jacket may have an odour despite looking visually fine. If you find a perfect jacket for you and you are prepared to overlook any damage, want to repair it yourself or have someone do it, then that's fine, and can be a satisfying process. And most odours can be neutralised with a Dry Clean. But the more specialised retailers such as Live for Tweed come into their own as the tend to sell items free of damage, cleaned, and in excellent condition.
Brands?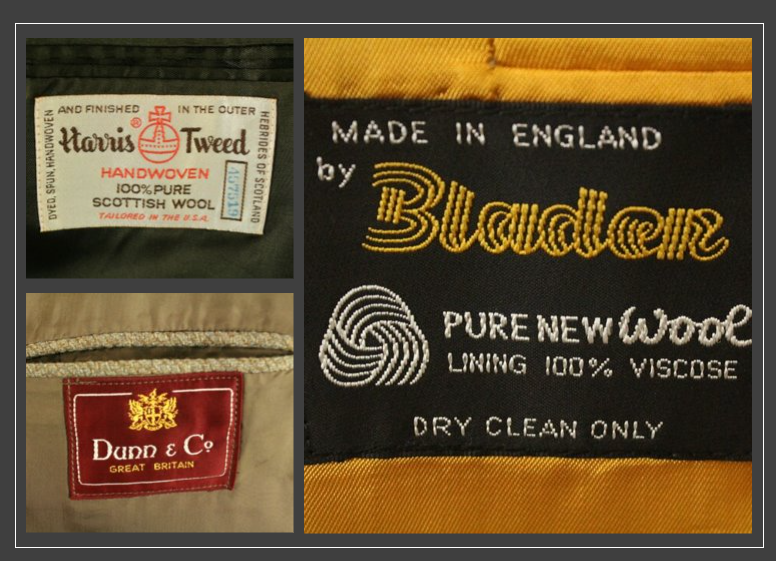 They are many and varied .Anything from High Street Stalwarts of old like Burtons , Dunn & Co. Fosters ,to high end Savile Row like Huntsman and Henry Poole via smaller Country Brands like Bladen and obscure labels which can be a delight to find and research .A lot of the older brands will have a label for the cloth maker ,the brand and often the actual shop its sold through too. Harris Tweed will always have a specific label, its changed slightly over the years but it will always mention its origin and have the Orb Trademark too. The internet is an invaluable resource for research.
Fabric?
As we have established already Harris Tweed is the daddy of them all ,famous throughout the world for its quality and longevity. And it would generally be my go to fabric for a tweed jacket .I sort of know before taking delivery its going to be fairly heavyweight, warm and slightly rough to the touch But lightweight wool ,usually designated Pure New Wool with the Woolmark is also worth a look. Tweed isn't always the easiest of fabric to photograph because of the mix of colours and shades, it can look dull, and can look different when you actually receive it, again a specialist retailer will have the photographic equipment, and often their own studio, to capture the colours correctly. Bladen does. Or did, a beautiful wool cloth called Supasax that was a very tightly woven cloth that was warm, almost waterproof but didn't have the bulk of Harris Tweed. There are online some wool jackets, predominantly American ones, from the seventies that will frankly make you look like a News Anchor circa 1976.Unless you are going to fancy dress , then it's probably a look best avoided. Take a look at our Bladen Supasax Jackets, Dunn & Co, Harris Tweed and other top quality brands at Live for Tweed.
The credit and thankyou to Shaun Brown for writing this buyers tweed guide @these_rough_notes
I hope this has answered any questions you may have had, the team at Live For Tweed are very knowledgeable and are happy to answer any enquires about their extensive stock.
Browse through our latest items of Vintage Clothing including Tweed Jackets, Waistcoats , Overcoats, Ladies Tweed Jackets. All of our items are handpicked and we pride ourselves of the quality and condition of all of our online vintage clothing.